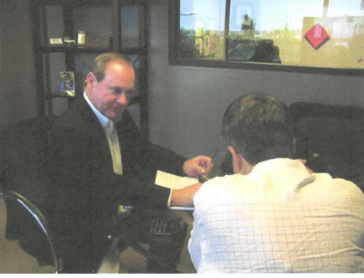 Why is executive coaching an effective way to improve performance?
Just as highly skilled athletes require coaches to challenge, train and motivate them, business leaders derive the same benefits from executive coaches. Engaging an effective coach will result in a continuous learning experience, while avoiding some of the painful lessons that come from trial and error methods for problem solving.
How can I find a coach who has all the answers I need?
You can't. In fact, the role of an executive coach is not to provide all the answers, but rather to ask the right questions. A good coach will help stimulate your thinking, thus generating more comprehensive solutions to important issues.
Is there hard evidence that executive coaching works?
Absolutely, and the use of coaches in the business world is growing rapidly as a result. IBM has more than sixty full time executive coaches among its ranks and many other major corporations have made coaching a core part of executive development. According to an article titled What an Executive Coach Can Do for You in the Harvard Business School publication Working Knowledge for Business Leaders, "…one-on-one interaction with an objective third party can provide a focus that other forms of organizational support simply cannot."
Also, executive coaching has a positive effect on a business leader's performance in many lasting ways. For example, research conducted by Executive Coaching & Consulting Systems found that nearly all (92%) coached executives applied what they had learned to future decisions. In addition, the vast majority of coached executives reported that they maintained the goals that they had achieved (83%), that their abilities had been stretched to new heights (81%), and that they applied what they had learned and encouraged others to achieve more (81%).
What are the most important characteristics of an effective executive coach?
That depends on the areas of improvement that the client is seeking. Generally, effective coaches can demonstrate that they have "walked the talk". In other words, if a CEO is considering the engagement of a coach, potential candidates should have resumes that include significant experience running businesses successfully.
In addition, coaching styles vary widely. While it is the responsibility of an effective coach to stretch the comfort envelope of the client, this must be accomplished with a style that engenders trust in the relationship. Most professional coaches will offer a sample coaching session (half-hour to an hour). This provides a great opportunity to determine the likelihood of a successful relationship.
"Honest, actionable, practical and incredibly valuable…this is what I have experienced working with Mike at our executive coaching sessions. Running a business, a successful one, requires more wisdom and knowledge than I can offer. Mike Kady is a seasoned and proven CEO who brings depth and a vast portfolio of business experiences to our meetings. I have made great use of this tool, and am all the better for it. He is a coach, confidant, and indispensable resource."
Chief Executive Officer
National Floral Marketing Company